Harrogate doctors' practice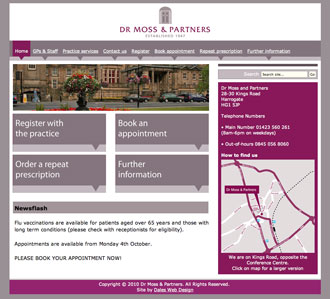 For Dr Moss & Partners we designed a complete new brand identity and logo then redesigned the website, stationery and signage. The website uses the Joomla content management system so that practice staff can easily keep it up-to-date and extend it.
After the site went live Chris Watson, Practice Manager, said:
"It was a great pleasure to work with Dales Web Design to update our branding and web design. The new design has a clean professional look which has impressed staff and patients alike.
Dales Web Design has provided us with a platform which meets our current needs, but will allow us to expand and add extra features in the future."
Visit site.
Burley in Wharfedale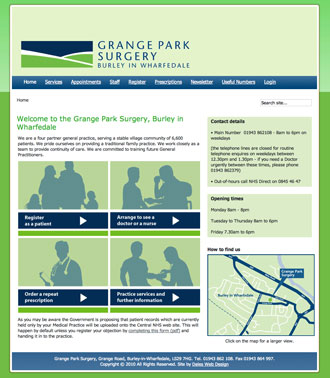 We designed a new website for this Wharfedale Doctors' Practice using the Joomla content management system. It also features an intranet for use by staff to store and publish internal documents.
Visit site.
Doctors' practice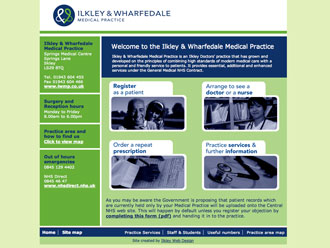 Dr David Cockshoot commented:
"Michael and his team designed our practice website. I cannot recommend him more highly. Michael is very professional and innovative in his approach. He gave us exactly what we wanted and the website works in a very clear and practical way for us. Also any aftercare and support was excellent."
Site gives information about this Ilkley Doctors' practice, allows patients to book appointments online, and to order repeat prescriptions.
We also designed a new logo and brand identity for the practice before building the site, and handle the search engine optimisation for the site. For example try typing in the search phrase "Ilkley Doctors" to www.google.co.uk. www.iwmp.co.uk should be in the top five organic search results and also top of the local business results. This makes the practice more easily accessible to local patients.
Visit site.